Today I am linking up for "Thinking out Loud" with
Running with Spoons
This post has a little bit of everything, a few rants, a few raves, a few facts.
Hope you enjoy & consider joining the linkup next week, it's hosted every Thursday!
1.
A back road I take to work now has a new stop sign...I know this because I ran the stop sign the other day, much to the chagrin of everyone else waiting their turn. In my defense, there probably should have been a warning sign. On a 45 MPH road...if you want to put your stop sign at the end of a blind curve. Jus' sayin'.
2.
November weather in Pittsburgh was pretty atypical (read : warm & sunny), now that the winter gloom is in full effect, I am counting down the days until my trip to New Zealand in February!!! I'll be spending 10 days on the South Island , 4 of those in Queenstown (pictured below) & escaping cold, dreary winter time Pittsburgh in the process.
3.
I'm swimming in turkey at my house. My mother made THREE turkeys for SIX of us on Thanksgiving. If you're good at math, that's 1/2 turkey per person. Even if you're bad at math, it's still 1/2 a turkey per person. And though I froze most of the leftovers, opening my freezer door will be a game of chance until I can manage to use some of this.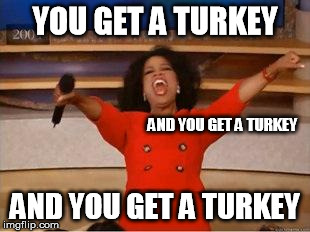 4.
The best $25 I ever spent was buying a heated blanket for my cube at work. It is forever freezing in this place. If I cozy up with my blanket & a mug full of coffee while I draft a blog post, I almost forget I'm at work. Oh wait...
5.
Some days, being a grown up rocks. Like on Tuesday, the BF and I headed out for drinks with some friends. But, since we all had adulting to do the next day, no one felt like party poopers when 930PM rolled around & we all agreed it was time to go home.
6.
I am on the hunt for an ugly sweater. I'm headed to an Ugly Sweater party this Saturday, but wasn't smart enough to grab my old standby when I was home for Thanksgiving. Every thrift store I've wandered into though has been sold out of ugly sweaters. So what's a girl to do?
Anyone else headed to an Ugly Sweater party this year?
Anyone else have a Mom who made enough to feed an army?
What's your next vacation?