Welp, I've survived a whole week of blogging. I'm really enjoying it, but I've got to say, remembering to take pictures of things is really hard business. Especially remembering to take a picture before you've eaten half of whatever tasty food you made.
The weather is supposed to be sunny & mild this weekend, so a run & a hike are on the books for me. That & feverishly hunting for an ugly Christmas sweater. I've got a party contest to win Saturday night!
I'm starting to think that in order to be a blogger you should MUST do some sort of post on Friday about all of your favorite things. I do actually love this concept, because I have discovered some pretty great products, songs & life hacks reading other bloggers Friday Favorites posts. So, without further adieu...
Hello Remix :
Adele's new song is getting some serious love. I enjoyed my first listen or two, but it's a little slow for me to jam to on the regular. So when I peeped a fast paced remix on YouTube I knew it was something I could bop my head to.
Emojis : I am seriously guilty of waiting until I absolutely HAVE to to upgrade my iPhone software. Anybody else out there? I like to think by waiting I give them time to work out all the kinks. I finally had to upgrade because an app I wanted required updated software. Anywho...late to the party here I suppose but these new emojis are the best!
The most important being that there is now an eye rolling emoji & a taco emoji. To help me better express my full range of emotions.
Etsy :
I'm doing a Secret Santa gift exchange with some far away friends. None of us live near each other, so, while I plan to poke around this weekend at some local stores, if they're too crowded I'm out. I've already found a few things on Etsy I know would make a great gift for my friend & that I could have shipped directly to her, rather than relying on me to remember to mail something. I'm personally of the belief that a coffee drinker can never have enough mugs. So, my backup will probably be this darling
mug.
We all met biking, so it just seems to fit.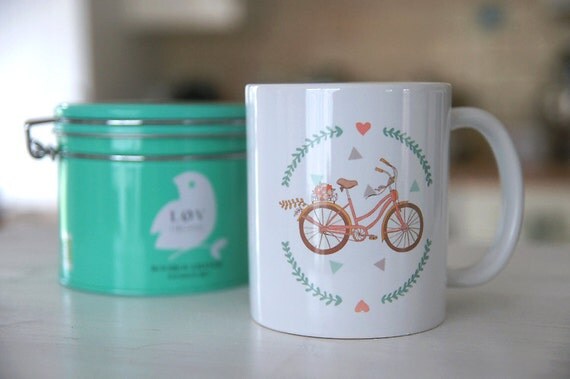 Payless Flurry Moc : Payless had some decent sales last week. So I took the opportunity to snag a second pair of my favorite slippers. They were under $13. And they're so soft and warm. I got this pair in brown and love the color.
Sushi :
Yes, this was all for me. Yes, I ate it all. No shame in my game. A few years ago
Cloud 9
tried out offering half price sushi one night. Well, it caught on, and they never turned back. So, every night after 5PM, their whole dine in sushi menu is half price. At first I was skeptical about eating half price sushi. But not anymore. I've yet to find anywhere that can match their quality or come close to their price. So 4 rolls it is. Tax & tip & the whole thing was still under $30.
Anyone doing a gift exchange with friends?
What's on your calendar for the weekend?